Okay, so you all gave us so many great suggestions for the post title! Thank you so much!! It was really hard to pick our top three, or four... I loved "Puddle Wonderful," which was suggested by my sweet friend Julia Gulia. But, I had to disqualify her because she is privy to lots of inside information about me - including my adoration of e.e. cummings poetry.
I also really liked
Spank's
somewhat dirty suggestions - "Rain On Me" and "Rain Over Me," but those both made me think of this...
Made with love by my very good friend Robs Swiss Miss.
...and that would lead to distraction. I'm sure you don't want to hear about Kemmett
every
Monday. Or maybe you do? *looks up hopefully* Okay, no.
So, after hours (or so) of poring over our choices - this how we came to our final choices...

Okay Meadow, so here are my top three. Send me yours.
Weekly Whimsy
The Rain Report
Rain Spouts

Okay, my favs are The Rain Report and Reading Rain-bow. I'm going to do the Geordi visor no matter what, so you might as well include it. ;) And,
Cheryl
seconded the Reading Rain-bow one, so that counts.

NOOOOOO! *stomps foot* Cheater.

So? *grins*

Fine! Then we're putting the vote to all four!
Weekly Whimsy - from
ssherrill115
The Rain Report - from
rxmeds96
Rain Spouts - from Monica (Mj)
and F*cking Reading Rain-bow - from MEADOW! (cheater)

I just snorted and almost choked on my twizzler. Seriously. I think we have to leave the title "F*cking Reading Rain-bow."

Okay, I'm dying at your "choking on your twizzler." Seriously?

*laughing maniacally* Well, here, choke on this...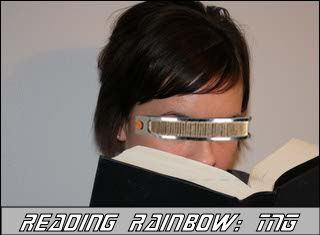 OMG you are the f*cking master. I bow down to your genius. F*cking Reading Rain-bow might just win. And now I won't care because that is hilarious.
.... So that, my friends, is why you have four titles to choose from! Please vote and try, TRY not to let the visor influence your decision!

Psst... If
the visor
"Reading Rainbow: The Next Generation" wins, we'll do a random number drawing for a copy of Shiver. Because Rain is right, I cheated. And it was
sooooo
worth it. Also, that picture is now on my phone for every time Rain calls me. Mwahahahaha!

Dear Meadow, I'm never calling you again. Love, Rain
*wink*
Voting is open until midnight, Sunday, EST! And, we made a handy little voting poll thingie for you to place your votes! (At the top of the sidebar.)