We're sure you're aware of the crisis that faces the people of Haiti right now. In an effort to help, the amazing
MsKathy
is putting together an ebook compilation from over 100 fanfic authors. All you have to do is email her a copy of your receipt showing you donated at least $5 to
any
charity to help Haiti recover from this disaster. Then, on January 25th, you'll receive an email containing a PDF or Word doc of the stories. Click the link or picture below for more information:
http://mskathyff.blogspot.com/2010/01/haiti.html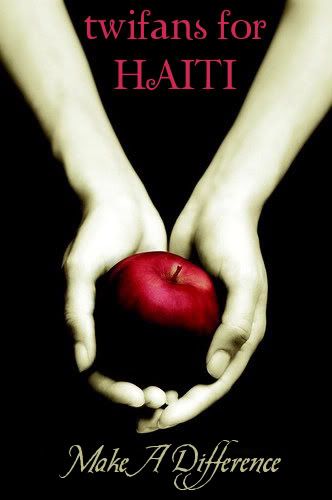 We'd also like to share that
Ginger
's generous husband, Mr. Ginger, whose hobby is photography, is offering a free pic in HQ digital format to everyone who donates $5 through his site. 100% of the proceeds will go to Red Cross Disaster Relief in Haiti. Check it out and spread it around:
http://haitianrelief.blogspot.com/

I'm incredibly proud of all of the ways this fandom has banded together to help in times of need. I will be writing a one-shot to be included in the compilation and I need your help: Leave a comment and tell me what you'd like to see me write. I'll pick one as the prompt for my piece and will give whoever suggested it a shout-out.
Do you want something sweet? Something dark? Something lemony? If you want a fic where Bella is a video store clerk and Edward rents porn, I'll write it. (That's actually not a bad idea... Hmm...) *winking*
Aaaand.... GO!