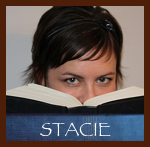 Okay, I know it is supposed to be Waiting on
Wednesday
, but we posted
Lazy Book Club
on Wednesday this week, and I am very (VERY) excited about two books being released next week. So, I'm breaking the rules. I know, wild and crazy.
The first book that I am ridiculously excited about is a no-brainer,
City of Fallen Angels
by
Cassandra Clare
!
The idea of more Jace is almost as exciting as the video that was leaked this week! *Ahem* And, of course more of Cassandra Clare's amazing stories. She is truly a great storyteller and I can't wait to see what she has in store for Jace, Clary, Simon, and the rest of her characters. I'm sure I'll be staying up late on Monday night to download this one as soon as it is available on April 5th.
The second book I'm waiting for is
Where She Went
by
Gayle Forman
. If you all haven't read
If I Stay
, please go do so! It is definitely one of my favorite books. You can read my recommendation
here
.
Honestly, I had no idea that there would be a second book to
If I Stay
. It doesn't really
need
one, but I'm not complaining. I'm very curious to see how Gayle Forman will turn this into something worthy of following the first book. I have no doubts that it can be done, because her writing is beautiful and moving. I'm really looking forward to sinking into this book!
So there you have it. Now you all know what I'll be doing next week! April 5th is the release date for both of these books. What about you all? Are you anxiously awaiting either of these, or is another book causing you to count down the days until release?