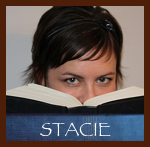 It's no secret that I'm a sucker for a good dystopian novel, but even I get skeptical sometimes. I saw the cover for
Partials
by
Dan Wells
and was not convinced that it would be anything new and exciting. Um, wrong. I was wrong. This book is a fantastic dystopian and I loved it!
From
Goodreads
:
Humanity is all but extinguished after a war with partials—engineered organic beings identical to humans—has decimated the world's population. Reduced to only tens of thousands by a weaponized virus to which only a fraction of humanity is immune, the survivors in North America have huddled together on Long Island. The threat of the partials is still imminent, but, worse, no baby has been born immune to the disease in over a decade. Humanity's time is running out.

When sixteen-year-old Kira learns of her best friend's pregnancy, she's determined to find a solution. Then one rash decision forces Kira to flee her community with the unlikeliest of allies. As she tries desperately to save what is left of her race, she discovers that the survival of both humans and partials rests in her attempts to answer questions of the war's origin that she never knew to ask.

Combining the fast-paced action of The Hunger Games with the provocative themes of Battlestar Galactica, Partials is a pulse-pounding journey into a world where the very concept of what it means to be human is in question—one where our sense of humanity is both our greatest liability, and our only hope for survival
.
I think one of the reasons I was so wrong is that this book isn't strictly dystopian. It's not strictly anything, really. In addition to being described as dystopian, I've seen it referred to as sci-fi and post-apocalyptic. Okay, honestly? Add those three together and I'm a happy reader-girl. And why stop there? There are also scientists, feminists, partial-humans, and a Resistance. My inner geek wants to throw a party about this book.
And, AND? A heroine that you will love. Or, at least, I did. I hope you do, but I'm thinking you will because she's extremely intelligent, tough, and ridiculously brave. I admired her right away and that continued throughout my reading.
The best thing about
Partials
is the twists and turns - this book is filled with surprises. There were times that I literally jumped while I was reading because things happened that I was definitely not expecting. It is action-packed and will keep you wanting more. I could not put this book down! It is going to be a long wait for
Fragments
!