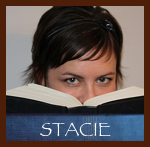 I hope I'm not one of the last people to read
Thirteen Little Blue Envelopes
by
Maureen Johnson
, because I really want to share this great book with you all! After I read it (and quickly followed it with
The Last Little Blue Envelope)
, I couldn't help but wonder how I had missed out on reading these books earlier. Thank goodness Leigh read them and forced me to do the same.
From
Goodreads
:
When Ginny receives thirteen little blue envelopes and instructions to buy a plane ticket to London, she knows something exciting is going to happen. What Ginny doesn't know is that she will have the adventure of her life and it will change her in more ways than one. Life and love are waiting for her across the Atlantic, and the thirteen little blue envelopes are the key to finding them in this funny, romantic, heartbreaking novel.



I hate to admit this, but I definitely judged this book by its cover. I thought it would be too cutesy for me. You all know I like books about shadowhunters, vampires, werewolves and the like, but I also enjoy real-life books as long as they have some depth to them. Well, I was completely wrong about this book (and the sequel). Granted, they are cute, in a way that makes them fun to read and made me laugh out loud at times, but there is plenty of real-life depth here too. Maureen Johnson doesn't let her characters off easy, and she doesn't wrap everything up in a pretty, Happily-Ever-After bow, and I loved her for that.

So, if you're looking for some real-life, get past the cute covers and get ready for an eventful, fun, and sometimes heartbreaking journey. Seriously, you are missing out if you haven't read these books!