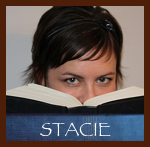 I have SO many books to tell you all about, because although I've been quiet lately, I've definitely been reading - and so many are worthy of recommendations! I'm going to start with the book I have just finished because it is OH SO GOOD.
Under the Never Sky
by
Veronica Rossi
is a ridiculously well-done dystopian novel. It is delicious. I mean that. It is a book to be savored slowly.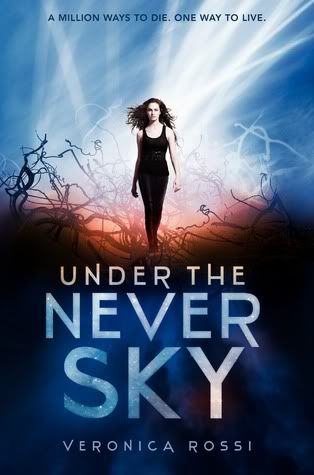 Since she'd been on the outside, she'd survived an Aether storm, she'd had a knife held to her throat, and she'd seen men murdered. This was worse.

Exiled from her home, the enclosed city of Reverie, Aria knows her chances of surviving in the outer wasteland - known as The Death Shop - are slim. If the cannibals don't get her, the violent, electrified energy storms will. She's been taught that the very air she breathes can kill her. Then Aria meets an Outsider named Perry. He's wild - a savage - and her only hope of staying alive.

A hunter for his tribe in a merciless landscape, Perry views Aria as sheltered and fragile - everything he would expect from a Dweller. But he needs Aria's help too; she alone holds the key to his redemption. Opposites in nearly every way, Aria and Perry must accept each other to survive. Their unlikely alliance forges a bond that will determine the fate of all who live under the never sky.
This book might seem to start out a bit slow, but don't give in to that idea. When I said that it's a book to be savored, I mean that every little detail is important. As I neared the end of this book, so many things from the beginning began to carry more weight and make the ending all the more intense and wonderful. The story is told very deliberately and weaves around itself beautifully. I love finding a book that does this well.
And the story! I know that I'm biased towards dystopian fiction, but I think that even non-dystopian-lovers (that's a term, right?) will like this book. If you like dystopians, you will LOVE it. The story is based around a unique concept and it is one that made me wonder throughout. Not everything is explained completely, but I loved that. Veronica Rossi trusts us enough to come to our own conclusions, for now.
Now, that being said, this story does not end ambiguously. Aria's journey is wrapped up, but with a hint of what to come. If you're like me and love reading a journey of discovery, change, and self-realization, you will truly enjoy this book. And if you like a beautiful love story thrown in there - one that is both believable and honest - then you will LOVE this book as much as I did.