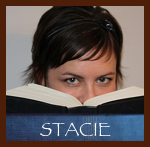 We finally met at the Decatur Book Festival!
WOW! Two whole years of reading amazing books and then gushing about them to you all, our dear readers! It's been so much fun and Leigh and I have had a great second year - we FINALLY met IN PERSON!
To honor our second blogaversary, I asked all the Whimsical Fic-ery contributors to help me make a list of our favorite books of 2011. Yeah, we know Top
10
11 lists are usually done BEFORE the new year, but this is our tradition. And we're
lazy
whimsical so we always do things late! (In fact, this blog post is a day late, but we like staying true to form.)
So, without further ado, here is our list of favorites! (In no particular order)
DIVERGENT, by
Veronica Roth
Okay, I'm seriously bouncing in my seat in anticipation of the sequel to this book. (COME ON MAY, 2012!) I truly, deeply LOVED
Divergent
and have spent the past seven months trying to convince others to read this book. To be honest, most people I mentioned it to had already read it and they also LOVED it. Well-written with a ton of action and an amazing kissy-scene, this book is just plain GOOD.
Reading Rainbow for
Divergent
can be found
here
.
FORGOTTEN, by
Cat Patrick
This is one of those sleeper books that I think everyone should read. It's a fast read but it will linger with you for days after you finish. It's a fascinating premise (the main character forgets the past, but remembers the future) and it's done extremely well. It's twisty-and-turnsy in a way that will keep you guessing, or even gasping in surprise (as I did). If you didn't listen to me the first time, do so now and read
Forgotten
! I can't wait to see what Cat Patrick writes next!
Reading Rainbow for
Forgotten
can be found
here
.
THE IRON KNIGHT, by
Julie Kagawa
I really don't need to tell you all AGAIN how much we love
The Iron Fey
series. I mean, really - if you've been around for the past two years, you know. But, THIS BOOK. I love (and kind of hate - in a good way) writers who toy with my emotions so that I end up smiling though sobs by the end of a book. Julie Kagawa has done this to me not once, but three times! And it was THE BEST in
The Iron Knight.
I loved every minute of this book.
Reading Rainbow for
The Iron Knight
can be found
here
.
CLOCKWORK PRINCE, by
Cassandra Clare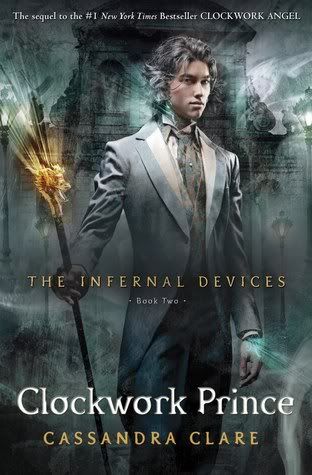 First of all - THIS IS THE BOOK THAT WE ARE GIVING AWAY! YAY! (Details at the end of this post...) Second, I adore this book! I know, big surprise! We're huge Cassandra Clare fans here at WhimFic and she did not let us down one bit with Clockwork Prince. To be honest, I loved it even more than
Clockwork Angel
(and that is saying a lot). And I know I just mentioned writers who mess with our emotions... uh, yeah, Cassie Clare has that down. I was a mess (in a good way) reading this book. Will! Jem! Will! Jem! TESSA? Oh, it's so great. I hope you win it if you haven't read it yet, but if not, this is a must-read to be sure.
THE NEAR WITCH, by
Victoria Schwab
Back when Leigh originally recommended this book, I had not yet read it, so I haven't had a chance to gush about this one to you all yet! You might be lucky in that respect, because I truly love this book. It was beautiful, haunting, lyrical, and, oh, did I mention
beautiful
? I loved everything about the story, and was left pondering for many days after I finished reading. I believe this book is best read on a chilly night. Perhaps in a cottage, with a fire crackling in the hearth and the lonely wind howling outside your windows... Oh, wait. I'm getting lost in
The Near Witch
again. It's easy to do, trust me. Or, just read the book and see for yourself!
Reading Rainbow for
The Near Witch
can be found
here
.
And now I shall turn this post over to Sophie, Cher, and Leigh with some of their favorites of 2011...
LOLA AND THE BOY NEXT DOOR, by
Stephanie Perkins
If
Anna and the French Kiss
is about a glimpse at first love, then
Lola and the Boy Next Door
is about that moment of possibilities. Those awkward moments we've all experienced with a boy we know well. Is it unrequieted love? No. It's more about timing. That natural push/pull, will he/won't she moments that document when a friendship is turning into something more. When I read this book, I kept thinking "If only...". If only Lola would dump that loser of a boyfriend. If only Cricket would just SAY SOMETHING. If only....we've all experienced that, haven't we? If I lived closer to you, I would've loaned you my copy of both books. Yes, it's THAT good.
RED GLOVE, by
Holly Black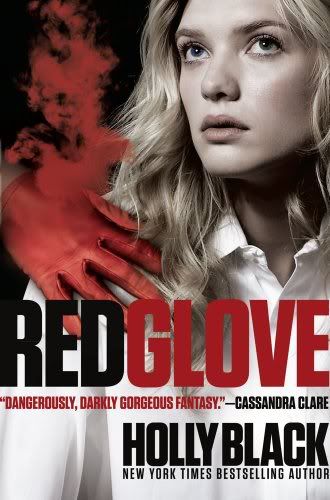 We invented a word and I shouldn't admit it in a post but here goes -- Casselishness. Here's why. While the world-building and plot in this series is brilliant, it's the character of Cassel (and yes, it's written from his POV) that makes me keep reading. No matter the conflict, external or internal, he stays true to himself. Yes, he's THAT character and I couldn't help falling for him. If you haven't read
White Cat
and
Red Glove
, there's still time.
Black Heart
will be released this Spring. And you guys have got to meet Cassel. As far as fictional boyfriends go, he's on my Top 10 List. Near the top. Very, very close to Mr. Darcy.
Reading Rainbow for Red Glove can be found
here
.

**SPOILER ALERT: If you haven't read the first 3 books of The Mortal Instruments Series - MOVE ALONG - this portion has spoilers for those books, but not for the fourth book. **
CITY OF FALLEN ANGELS, by Cassandra Clare
Move over Edward; my heart belongs to a Shadowhunter now! This installment of The Mortal Instruments series was so good that I actually slowed down my reading of the last few chapters because I desperately didn't want the story to end (that and it's difficult to hold a book while you're biting your nails to the quick, freaking out about what's going to happen). Thank goodness there are two more titles in the series yet to be published! Cassie Clare found a perfect rhythm in this fourth book of the series, bringing the passion and angst off the page and into my heart, as Clary learns that every action, even the best intentioned ones, have consequences. While I, of course, loved the budding relationship (and *cough* shmexy times) between Clary and Jace, I found some of the most enjoyable developments to be between Alec and Magnus and Isabelle and Simon, and for the first time in the series I wasn't rushing through these characters' scenes just to get to "the good stuff." Twist after twist, kiss after kiss, Cassie Clare left me begging for more. Hurry up, May 8th!
HOURGLASS, by
Myra McEntire
I gushed about this book back when we first reviewed it, and I'm so thrilled to have an opportunity to gush again. Myra McEntire did an excellent job of taking two of my favorite things (hot boys and time travel) and putting them together in a fun, exciting book. She created characters that we cared about, with dilemmas that made me ache. I laughed. I cried. I wished I was Emerson. I was thankful I wasn't Emerson. I decided I wanted to be Emerson for JUST ONE DAY. Preferably a day she was making out with the aforementioned hot boy. If you haven't read it yet, you need to. Then you can join me in anxiously awaiting the sequel, Timeslip. (More hot boys! More kissing!)
Reading Rainbow for this book can be found
here
.
BEAUTY QUEENS, by
Libba Bray
I honestly can't believe Stacie let me be the one to put this on our list, because I think it's at the top of both of our personal favorites. Not just for 2011, either. This book is so surreal and over-the-top that it almost takes you off guard when you realize how honest it is. Beauty Queens is one part James Bond movie, one part Teen Vogue, and one part your-crazy-Feminist-aunt. And I mean that in a good way. It made me laugh so hard I had tears rolling down my cheeks, but it also made me think. I don't think the world is as bad off as Beauty Queens would have us believe, and I don't think every Beauty Queen is a ball of emotional issues waiting to come out. But Beauty Queens did what I believe Libba Bray wanted it to - it made me think between the laughter. And I love it all the more for that.
Reading Rainbow for this book can be found
here
.
THE NAME OF THE STAR, by
Maureen Johnson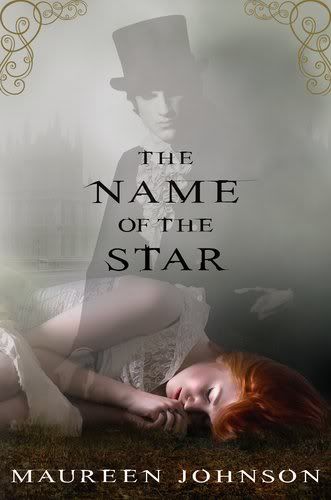 I loved this book so much, mostly because (as I said in my review) it has almost ALL of my personal hot buttons in it. London? Check. Hot Boys? Check. Strong Chicks? Check. Snark? Check. Ghosts? Check. It even had a Doctor Who reference, people. (Just a small one, though. Don't be scared, non-Whovians. This book is still for you.) If you like mysteries, you'll like it. If you like boarding-school-fish-out-of-water stories, you'll like it. If you like Maureen Johnson on twitter, (and who the hell doesn't?) you'll like it. Just trust me. You'll. Like. It. So go read it. Now!
Reading Rainbow for this book can be found
here
.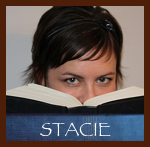 So, there you have it! Our Top 11 books of 2011! I am quite sure that we have forgotten a few books that should be on the list, and that is where you come in! Thanks to
Mrs. Oshimbo
, we have a copy of
Clockwork Prince
to give away! Mrs. O had an extra and generously donated it to help celebrate Whim Fic's 2 Year Blogaversary! We love Mrs. O! So, all you have to do is leave a comment on this post to let us know which book we missed. What was one of your favorites of 2011, and why? If you loved the ones that we listed, we'd love to hear about it, BUT the rules are that you also have to tell us about a DIFFERENT book than those on the list.
Just to be clear - to be entered to win a copy of Clockwork Prince:
1. Leave a comment on this blog telling us one of your favorite books of 2011 that IS NOT ON OUR LIST.
2. Tell us WHY it is one of your favorite books.
3. Be sure to leave contact information in case you win!
4. Do this all before next Wednesday, January 11th, when we'll announce the winner. We're giving you a WHOLE WEEK because we understand the need for extra time to finish things. :)
And since Mrs. O will be shipping the book to the winner, this is a giveaway for US residents only. I'm sorry! I promised last time that we would have an international giveaway, so Leigh and I will have to find another reason for a fun giveaway soon!
Thanks to all of our blog contributors for helping us celebrate by picking their favorites! And lastly, THANK YOU to all of our readers for making the past two years so much fun!