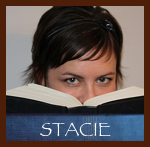 If you're like me, you've picked up
White Cat
about 100 times and thought about buying it, but for some insane reason, didn't. I was WRONG not to have read Holly Black's amazing books sooner! Thankfully,
Sophie
and
Ashley
talked me into it, and I am now fully in love with Cassel and cannot wait for the next book to come out!

From
Goodreads
(on
White Cat
):
Cassel comes from a family of curse workers — people who have the power to change your emotions, your memories, your luck, by the slightest touch of their hands. And since curse work is illegal, they're all mobsters, or con artists. Except for Cassel. He hasn't got the magic touch, so he's an outsider, the straight kid in a crooked family. You just have to ignore one small detail — he killed his best friend, Lila, three years ago.
Ever since, Cassel has carefully built up a façade of normalcy, blending into the crowd. But his façade starts crumbling when he starts sleepwalking, propelled into the night by terrifying dreams about a white cat that wants to tell him something. He's noticing other disturbing things, too, including the strange behavior of his two brothers. They are keeping secrets from him, caught up in a mysterious plot. As Cassel begins to suspect he's part of a huge con game, he also wonders what really happened to Lila. Could she still be alive? To find that out, Cassel will have to out-con the conmen.
Holly Black has created a gripping tale of mobsters and dark magic where a single touch can bring love — or death — and your dreams might be more real than your memories.
Honestly, I think it was the mobster/con artist thing that turned me off in the past. I was worried I'd have a hard time liking a character who conned people, but that turned out to be one of the more interesting aspects of the books. Cassel's ability to con and the descriptions of how it all works out are fascinating.
And, as far as finding a likeable character? Well, I love Cassel so much that I, along with Sophie, have made a new word: Casselishness. Trust me, you will love Cassel and all of his Casselishness as well. He has secured his place on my list of favorite book-boyfriends, to be sure. Also, I love finding books written from the male point of view that are done well, and these books are exceptional in that regard.
In addition to all of the Casselishness are the great stories at the heart of these books. Holly Black is an amazing writer, and reminds me of Cassandra Clare in the way she likes to toy with our emotions through her main character. I suffered from a major heart-ache during my reading (not saying where or why!), and definitely had a book-hangover after I finished. Nothing else could compare.
So, if you've thought about reading these books and haven't yet - do so! And then come back and let me know what you think!