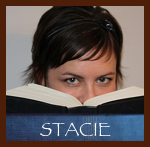 I had been extremely excited about the release of
Across the Universe
by
Beth Revis
. Here at WhimFic, we love ourselves some sci-fi, so both Leigh and I were (not so) patiently waiting to read this book. Once again, I'm happy to say that I was not disappointed in the least about a highly-anticipated book!
From
Goodreads
:
Seventeen-year-old Amy joins her parents as frozen cargo aboard the vast spaceship Godspeed and expects to awaken on a new planet, three hundred years in the future. Never could she have known that her frozen slumber would come to an end fifty years too soon and that she would be thrust into the brave new world of a spaceship that lives by its own rules.
Amy quickly realizes that her awakening was no mere computer malfunction. Someone-one of the few thousand inhabitants of the spaceship-tried to kill her. And if Amy doesn't do something soon, her parents will be next.
Now Amy must race to unlock Godspeed's hidden secrets. But out of her list of murder suspects, there's only one who matters: Elder, the future leader of the ship and the love she could never have seen coming.
You know when people say, "I didn't want this book to end!" and will read more slowly to make it last? Yeah, I've never truly understood that concept, until I read this book. I actually slowed myself down so I could take in everything about
Across the Universe.
(I'm usually racing to the end to see what happens.) The best thing about this book is the way it mixes science fiction with dystopian literature. It's like my book-dream-come-true! The story was new and different (for me), and I loved it.
This book also surprised me many times along the way. It has a bit of mystery and suspense mixed in, and I was completely caught up in the "whodunnit" part of the story. I also loved how the story was told through the alternating points of view of Elder and Amy. Sometimes that can make for a confusing read, but not at all in
Across the Universe
. The story flowed so easily between the two voices.
Upon reading, I had no idea whether this was a stand-alone book, or part of a series. It really could work as a single book, but I'm happy to say that we will get MORE books, as it is, indeed, part of a series. I can't wait to read more from Beth Revis! Are you planning on reading
Across the Universe?
Have you already read it?