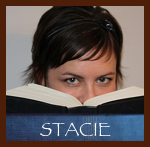 Holy WOW, ya'll. I just devoured
Forgotten
by
Cat Patrick
. Literally in less than 24 hours! I even picked it up in the middle of the night when the babe woke me and needed to be rocked back to sleep. I never do that (because I love to sleep), but this book was calling to me.
From
Goodreads
:
Each night when 16 year-old London Lane goes to sleep, her whole world disappears. In the morning, all that's left is a note telling her about a day she can't remember. The whole scenario doesn't exactly make high school or dating that hot guy whose name she can't seem to recall any easier. But when London starts experiencing disturbing visions she can't make sense of, she realizes it's time to learn a little more about the past she keeps forgetting-before it destroys her future.

Part psychological drama, part romance, and part mystery, this thought-provoking novel will inspire readers to consider the what-if's in their own lives and recognize the power they have to control their destinies.
Okay, so based on the synopsis, I was a little worried that the whole "no memory" thing might be confusing in a book, but I wanted to give it a try. Not only was it not overly confusing, but it was also just the perfect amount of a supernatural twist to make this whole story fascinating. In addition to forgetting her past each day at 4:33 am, London can "remember" the future. It is such a great concept and really makes for a suck-you-in story.
There are so many twists and turns within this book, and many that I was not expecting at all! I loved it and was happily surprised throughout. I am not going to say much more for fear of revealing too much, but I will say that YOU SHOULD READ THIS BOOK! I've been telling everyone I know about it since I finished. Even non-YA readers. It's that good. So, trust me and go read
Forgotten
by Cat Patrick. Just be ready to stay up late at night if it sucks you in like it did me!