And the winner is....


F*cking Reading Rain-bow!!!
It was close until the last hour - and then FRR pulled waaay ahead.
We decided to give a free copy of Shiver to the second place winner, @rxmeds96 AND to a random winner chosen by Random Integer...
Comment #4 on last Monday's post came from trystawhitlock.
Congratulations to
rxmeds96
& trystawhitlock!
Send us an email and we'll get you both your copy of Shiver!
And now, on with our regularly scheduled post... *hangs head in defeat*....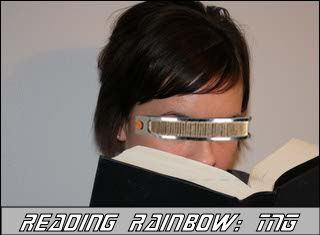 sidebra: Each week I'll be sharing about a book I've read, but I won't be doing plot summaries or reviews. I'm basically recommending books and hoping to start discussions about them. I'll always link to a review/synopsis for you all, if you like that sort of thing. Personally, the less I know about a book before I read it, the more I like it, but I love getting recommendations. And for that reason, I'll also link to the person who recommended the book to me, so feel free to email me with book suggestions! I love them!
Since we are giving away the book
Shiver
today, I thought it appropriate that it be the first book in the F*cking Reading Rain-bow series.
Shiver was recommended to me by
Ginger
*nods braid at
G
* back when she read it on her Yosemite vacation. I believe she said, "I want to go hide from my family and read this book," which is a great recommendation, in my opinion. When I recommend this book to my friends, I thrust it in their hands and say, "Read this. You will not be sorry. Grace and Sam, I promise you, will rate up there with Bella and Edward."
The first thing I loved about Shiver was the writing. It was beautiful and lush, without being too verbose or flowery. Truly, it was always just enough at the right moment. One detail that stands out particularly is when Grace finally is able to approach
her
wolf. I could literally feel the wolf's fur beneath my fingertips as Grace buried her hands there. The intensity of that moment is burned in my mind forever.
Since
Maggie Stiefvater
has described Shiver as, "
a YA novel about werewolf nookie and first love
," (which is the most awesome book description ever) I'm going to assume it's safe to reveal that this book is about a werewolf and his girl. I love how Stiefvater makes up her own wolfy rules- throwing out, or adding to the generally understood myths of the werewolf. Sam's existence is not pretty - it's gritty and heartrending. But, beyond (and because of) his burden, Sam is a wonderful character. I instantly adored him. He is sincere and thoughtful, and is able to see past a person's errors when love is involved. He's no Edward, but that is what I liked about him, actually. He isn't perfect and his existence is not something one would aspire to, but he is real.
And lest you think I am going to compare every book to Twilight, be assured, I will not. But, when I finished this book I thought about it for days - and wanted to re-read it again quickly, which is just how I felt after finishing Twilight. Sam and Grace haunted me, and I found my thoughts always returning to them throughout the days following my first reading. The books and characters are not really comparable, but my feelings about them are.
And the good news? Thankfully, Maggie Stiefvater has written the sequel,
Linger
, which is due out July 20, 2010. *bounces in my seat* I can't wait!
And here is where I ask for your feedback. If you've read the book, what did you love/hate about Shiver? (I know you didn't hate
anything
about it!) How do you feel about Sam and Grace? If you haven't read it, are you planning to? And, seriously, why haven't you? *grins*
And please remember - if you're going to comment with spoilers, please give a big old ***SPOILER ALERT*** before you do so.
Links and such:
The Crooked Shelf