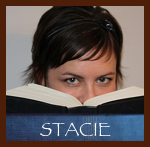 Happy Valentine's Day fellow book lovers! In my world, this day is about love in general, so we can celebrate our love of books too, right? Yes, yes we can! In honor of the day, I thought I'd recommend a love story. Okay, fine, most of the books I rec have a love story in them, but this one is a really great love story! How can it not be with a title like
The Statistical Probability of Love at First Sight
?
From
Goodreads
:
Who would have guessed that four minutes could change everything?
Today should be one of the worst days of seventeen-year-old Hadley Sullivan's life. She's stuck at JFK, late to her father's second wedding, which is taking place in London and involves a soon to be step-mother that Hadley's never even met. Then she meets the perfect boy in the airport's cramped waiting area. His name is Oliver, he's British, and he's in seat 18C. Hadley's in 18A.

Twists of fate and quirks of timing play out in this thoughtful novel about family connections, second chances and first loves. Set over a 24-hour-period, Hadley and Oliver's story will make you believe that true love finds you when you're least expecting it.
First, I really love how this book begins by looking at all the ways Hadley's day could have gone differently. I'm a big fan of movies like "
Sliding Doors
" (I'm totally dating myself with that reference) that explore the idea of fate, and this book does that as well. There are many moments within the story that can, and do, change the direction of Hadley's actions, and ultimately how she handles herself throughout. I love the idea that each little decision we make, or someone else makes, can affect us in giant ways.
Second, Hello Hot British Boy! And contrary to the blurb from Goodreads, Oliver is not exactly perfect. He has crumbs on his shirt, for goodness sake! Okay, endearing crumbs, but still. And did I mention that he is British? Okay, but what I really love about Oliver and Hadley is the way they relate to each other, even in the span of one short (okay long) plane ride from New York to London.
Third, the whole Love at First Sight thing. I know people get very annoyed when main characters fall in love "too fast," but it just doesn't feel that way here. You already know what you're getting into from the book's title, so the love story doesn't feel rushed or fake, but rather exciting and a little bit scary. In my opinion,
Jennifer E. Smith
captures perfectly those first, intense moments of falling in love. That she does it within the span of 24 hours is just a bonus.
And finally, (yes, I just outlined this rec like an English 101 essay and I have no excuse but it's staying this way) the story goes beyond Hadley and Oliver Love Story and really reaches into Hadley herself. Her personal growth, especially in relation to her family, is the real story here and I loved reading it.
So, if you're in the mood for a sweet story about falling in love, definitely pick this book up! I'm happy that I did!