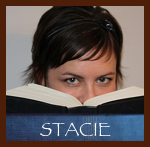 I'm guessing you all knew I would be recommending this book, right? It's no secret that I have a literary crush on John Green, so it's pretty much a given that I would love his latest book,
The Fault in Our Stars
. I'll be honest with you. I was scared of this book. For no real reason, I'm scared of books about cancer. I don't mind sad books, but, come on, a book about kids with cancer? That has to be depressing, right? But, then, this is JOHN GREEN, y'all. 1. I had to read it, and 2. If anyone can do this right, it's him.
From
Goodreads
:
Diagnosed with Stage IV thyroid cancer at 12, Hazel was prepared to die until, at 14, a medical miracle shrunk the tumours in her lungs... for now.

Two years post-miracle, sixteen-year-old Hazel is post-everything else, too; post-high school, post-friends and post-normalcy. And even though she could live for a long time (whatever that means), Hazel lives tethered to an oxygen tank, the tumours tenuously kept at bay with a constant chemical assault.

Enter Augustus Waters. A match made at cancer kid support group, Augustus is gorgeous, in remission, and shockingly to her, interested in Hazel. Being with Augustus is both an unexpected destination and a long-needed journey, pushing Hazel to re-examine how sickness and health, life and death, will define her and the legacy that everyone leaves behind.
Let me tell you, this book blew me away. I mean that. I thought I was prepared for something great (see above), but I was not prepared for the
beauty
of it. There is beauty in the mundane, which is amazing in itself, but also in this transcendent way that cannot be described, but rather
felt.
And while I often thought I knew what was coming, I was usually wrong. This book constantly went in new directions and each time it was fantastic.
And if I may mention the Love Story: It's perfect. It's worth reading. It's mature, true love. It's seeing one at their worst and wishing you didn't have to, but knowing you must and continue on anyway. I don't want to say more than that. In fact, I'm so worried about spoilers, that I'm just going to plead with you to read this one. I don't know if it's my favorite John Green book (please don't make me choose!), but this book is life-changing in a way you won't even realize until you find yourself thinking about it every minute after you finish. It's that good. So read it, yeah?
P.S. If you won't take my word for it, read Rachel Hawkins' funny and wonderful review
here
.