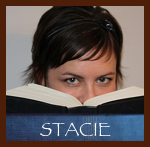 Okay, so have you all read
Delirium
? I know a few of you have and I've loved your comments so far! I have to tell you - Leigh has not finished the book! She claims that it is too hard to read, which I can understand. Sometimes you have to be in the right mood for an intense dystopian book, and I think
Delirium
is definitely one of those.

I think the first thing I said when I started reading
Delirium
was "It's beautiful and very uncomfortable - a true sign of a great dystopian novel." It really is both of those things. I admit it, I'm not done with it. Not because I got bored but because it was
so
intense that I just couldn't immerse myself in that world right now. I have a lot of mom-stress right now and the lack of any real parental love in that society really struck me. I admit it, I'm weak. I will finish it someday, but until then, this LBC is all you brave souls. *smiles* Have fun!
***SPOILERS WILL FOLLOW!! IF YOU HAVE NOT YET READ
DELIRIUM
, PLEASE GO AND READ IT BEFORE READING THIS POST!***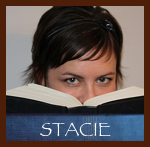 Since some of you have left comments (thank you!), I'm going to start with your thoughts. Nikki mentioned the storyline of living without love, and how effectively it was written. It worked so well that it made her question, "how on earth I would live my life with no real emotion anymore." I think one of the interesting things about the book is that Lena is on the generational cusp of this new way of life. In the beginning she looks forward to the "cure," and, as Picksee pointed out, feels a certain comfort in it: "She didn't like her situation necessarily, but she felt safe in it and looked forward to finally being really safe in the cure." That 'safety' is definitely something that jumped out at me as well. It was almost reassuring to me, in the beginning, that she would have the "cure."
A problem that I have with the cure, and I do believe it's an intentional problem on the author's part, is that it cannot be administered until age 18. If I think back to the point in my life when the "symptoms" of love affected me most, it was definitely in high school. Although I truly love my husband, it is a more mature love. When I was 16, I could fall in and out of "love" in a week, and the world could end if a relationship didn't work out. (Or so I thought...) I don't know if it was the same for you all, but I'm guessing it was or is.
Picksee also mentioned how the book made her think of freedom, "The whole idea of non-freedom sold as protection is so scary." I agree completely. And the idea that something within ourselves, a basic emotion that does indeed rule our lives, could be erased is truly frightening. The fact that The Powers that Be in
Delirium
can go beyond taking away rights and freedoms of what people
do
and extend that to what people
feel
is what makes this book so interesting. It really got to me when I thought of my love for my children. Trying to imagine raising them without the extreme, intense love I have for them is basically impossible.
Sophie mentioned the excerpts from the government propaganda that preceded each chapter. I also loved the way Lauren Oliver used this to give us as glimpse of how the "cure" was being sold as protection and freedom. It also made me think of the role of the Big, Bad, Evil Government in many dystopian novels. It's interesting how those in charge are most often the Villains in this genre, and
Delirium
is no exception to this rule. It was also mixed in with religion, as Picksee brought up. The same is true in
The Handmaid's Tale
, although in that book it was external freedoms that were taken away in the name of religion.
Delirium
, as I mentioned, takes it a step further by erasing a basic human emotion, and I think that makes it all the more powerful.

*sneaks back in to discuss before you touch on the ending I haven't read* I think there is a point in
Delirium
where Lauren Oliver does an excellent job of showing, physically, the emotional loss and emptiness that the current society experiences. It really struck me when Alex is taking Lena to his camp and they come upon the ruined neighborhood, complete with city streets and a rusted truck and a completely unharmed house. The house was physically untouched, "safe", but without a connection to other houses or to a society it had no purpose or value. It was a turning point for Lena to realize what her society was capable of in the name of "safety" but I felt like the house was representative of all the "cured" members. Because, without being connected by love and emotion, what purpose do they really serve? What meaning does their life have?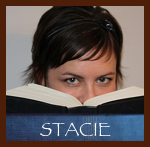 I knew you couldn't stay away, Leigh! And you jump in with such an amazing observation!
Now, of course, we must discuss the ending. *cue tragic soundtrack* Personally, I loved it. I honestly feel this book could stand alone and not be a series. I would have been okay with Alex dying to save Lena. Of course, now I want him to be alive and for her to find a way to save him and they live happily ever after with a Big Red Bow on top. But, I've read two of Lauren Oliver's books (this one and
Before I Fall)
, and she does not seem one for the Big-Red-Bow type of ending. I will say, I'm really looking forward to seeing what comes next for Lena and Alex, and hopefully Lena's mom.
Okay, so what about you all? What do you expect for Lena in the future? Even if you've commented already, I'd love to hear more!
And, just to give you something to look forward to - our next LBC book will be something fun! I promise! I'm going to pick a John Green book to make you all read (because I
looooove
him!), so if there is one in particular you've been wanting to read, send me an email or tweet. Basically, help me pick which one because I love them all!