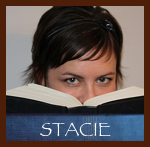 It's time for another rec in our spOOky series of Reading Rainbows! This week, we have
Miss Peregrine's Home for Peculiar Children
by
Ransom Riggs
. Honestly, I started this book knowing it might be creepy, but I had NO IDEA it would be as spooky (and actually scary) as it turned out to be!
From
Goodreads
:
A mysterious island.
An abandoned orphanage.
A strange collection of very curious photographs.
It all waits to be discovered in Miss Peregrine's Home for Peculiar Children, an unforgettable novel that mixes fiction and photography in a thrilling reading experience. As our story opens, a horrific family tragedy sets sixteen-year-old Jacob journeying to a remote island off the coast of Wales, where he discovers the crumbling ruins of Miss Peregrine's Home for Peculiar Children. As Jacob explores its abandoned bedrooms and hallways, it becomes clear that the children were more than just peculiar. They may have been dangerous. They may have been quarantined on a deserted island for good reason. And somehow—impossible though it seems—they may still be alive.
The first thing the drew me to this book is quite obviously the cover. Who can resist that? And, there are pictures throughout the book as well. (I read it on my nook color and I could see the pictures just fine - though I've heard many people with non-color e-readers wishing they had read a hard copy.)
The pictures go along with the story, and in fact, are an integral part of the story and the characters. I don't want to give anything away, because part of the fun of this book is the mystery of it all. But, I will say that within that mystery (which will keep you reading!) is a lot of SCARY STUFF. I had to read this one with the lights on. And since I'm a wimp, I asked our contributor Nicole (formerly known as Dusty Moats) if this book is, in fact, spOOky, or if it was just me. She said, "It was very dark and spooky. And even a bit gory." And this comes from a girl who loves herself some horror, so I consider her an expert.
So, in keeping with the spOOky theme of the month, we're recommending this book. But you might need to leave the lights on. Just sayin.