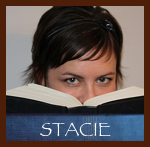 I was so excited to finally read
Blood Magic
by
Tessa Gratton
. You see, Tessa is one of the
Merry Sisters of Fate
, along with Maggie Stiefvater and Brenna Yovanoff. I love their site- especially their conversations about writing and reading- so I was excited to read a WHOLE BOOK by Tessa Gratton. And, happily, I loved it!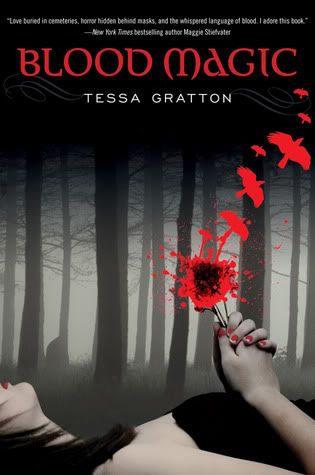 From
Goodreads
:
It starts off simply.
Draw a circle ... place a dead leaf in the center ... sprinkle some salt ... recite a little Latin ... add a drop of blood ...
Maybe that last part isn't exactly simple. Yet somehow it
feels
right to Silla Kennicott. And nothing in her life has felt remotely right since her parents' horrific deaths. She's willing to do anything to uncover the truth about her family—even try a few spells from the mysterious book that arrived on her doorstep ... and spill some blood.
The book isn't the only recent arrival in Silla's life. There's Nick Pardee, the new guy next door who may have seen Silla casting a spell. She's not sure what he saw and is afraid to find out. But as they spend more time together, Silla realizes this may not be Nick's first encounter with Blood Magic. Brought together by a combination of fate and chemistry, Silla and Nick can't deny their attraction. And they can't ignore the dark presence lurking nearby—waiting to reclaim the book and all its power.
Tessa Gratton's intoxicating first novel will keep pulses racing, minds reeling, and pages turning right up to the very last drop of blood.
I think the thing I loved most about this book was that it wasn't WAY out there into the supernatural. You could imagine this actually happening, and the characters are so very genuine, they made it all the more believable. There is also heartache and loss, which makes it more real and tangible - especially in the way Silla reacts to these things. She's an honest character and I loved her for that.
Before I started reading, I was a little bit worried that this book would be scary. (You know me - WIMPY!) But, it's not at all. In fact, I felt like a kid wanting to yell out, "THAT'S SO COOL!" with every new revelation. The ideas are fresh and the story is exciting with some serious romance thrown in. I definitely recommend picking up
Blood Magic
and getting to know Silla and Nick for yourselves!