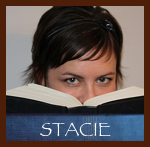 When I first heard about
Die for Me
by
Amy Plum
, it was described as a zombie love story. A love story WITH ZOMBIES? Hello, awesome. Admittedly, I was a little scared, because zombies can be scary, yes? But, I ended up falling into this book very easily and loving it.
From
Goodreads
:
In the City of Lights, two star-crossed lovers battle a fate that is destined to tear them apart again and again for eternity.

When Kate Mercier's parents die in a tragic car accident, she leaves her life--and memories--behind to live with her grandparents in Paris. For Kate, the only way to survive her pain is escaping into the world of books and Parisian art. Until she meets Vincent.

Mysterious, charming, and devastatingly handsome, Vincent threatens to melt the ice around Kate's guarded heart with just his smile. As she begins to fall in love with Vincent, Kate discovers that he's a revenant--an undead being whose fate forces him to sacrifice himself over and over again to save the lives of others. Vincent and those like him are bound in a centuries-old war against a group of evil revenants who exist only to murder and betray. Kate soon realizes that if she follows her heart, she may never be safe again.

In this incandescent debut, newcomer Amy Plum has created a powerful paranormal mythology with immortal revenants. The Paris setting comes enchantingly alive as a relentless struggle between good and evil takes place in its streets. Rich with romance, atmosphere, and thrills, Die for Me will leave readers breathlessly awaiting its sequel.
Okay, so the zombies aren't your typical zombies. In fact, they are quite handsome and dreamy zombies. I know at this point you might be looking at me like this....
...but, it works! Trust me! In fact, just forget about the whole "zombie" thing because "revenant" sounds so much more romantic. And, hello? This book is set in PARIS, so you cannot get much more romantic than that.
What I really loved about this book was the idea of the revenants and their particular talents. It wasn't something I'd come across before, and I really liked the way it was revealed. I also found the characters to be quite genuine. Kate felt very authentic to me, and I really enjoyed her as a main character.
And if all of that wasn't enough, well, I fell in love with the romance in this book. Lately, I find myself rolling my eyes when The Perfect Man shows up in a book, but for some reason it worked here. Vincent is sweet and endearing, and the love story was one that I could believe in.
So, if you're looking for a little summer romance with some undead characters to make things more fun, definitely pick up Die for Me. Don't let the dreamy zombies scare you off!