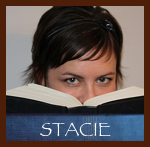 We have a winner for our
Hourglass
give-away! Normally, I would show you the cute little box with the winning number in it from the online drawing, but I have a new Mac and have no idea how to do that now, so.... you'll just have to trust me. :) Our winner was #4! That means Em from
Sash & Em
is our winner! Em, please email us with your address and we'll get the book right out to you! A shiny, shiny new copy of
Hourglass
!
I'm in desperate need of another book to read, but I'm holding off until tomorrow when I can download
Hourglass
for myself! I'm starting to get a little twitchy, but I'm SO excited to finally read Myra McEntire's book! Leigh has only been gushing about it since, oh, forever!
Congratulations to Em! And, thanks to the all of you for sharing your thoughts on time travel. We loved reading them! And don't worry, we'll have another exciting give-away coming up soon!