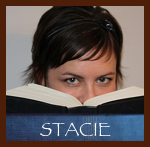 This week
Julie Kagawa
announced some very exciting news on
twitter
! If you follow Julie, you know she's been working on a SUPERSEKRIT project and now we finally know what it is!
Ash's story!
I know that I'm #TEAMPUCK and all, but this news gave me happy, excited chills. I love the Iron Fey series and the prospect of reading Ash's story is thrilling.
Normally I'd post a picture of the cover of
The Iron Knight
here, but since this has just been announced, the cover hasn't been revealed yet. But, we're also pretty excited about the upcoming release of
The Iron Queen
(February, 2011), so let's look at that cover because it's so pretty.
I've just started reading
The Iron Queen
(thank you NetGalley!) and am already completely hooked. The first page made me all teary, and I fear that this book might make me change my #TeamPuck status to #TeamAsh! *gasp* But, as I was reading, I was thinking that I don't want this series to end. Thank you Julie for not making me have to face the end quite yet! I still have
The Iron Knight
to look forward to and I can't wait!
What about you all? Are you as excited as we are for another book in The Iron Fey series?