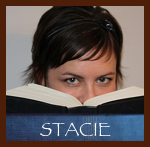 After it took Leigh and I a whopping three months to post the LBC on
Graceling,
we thought it might be a good idea to think about doing our book clubs differently in the future. Here's the thing - you all have so much to say! And we LOVE that. But, we HATE leaving out some of these great things! There was so much submitted for
Graceling
that we just couldn't get to - and we really wanted to.
So, I had an idea that we do our LBC's more in the way we did our informal LBC on Mockingjay - where we basically had an entire discussion in the comments section. I love the back and forth that occurred in that format, and that's just not possible with the way we currently do things. We could always start a forum for each month's book... but then that wouldn't be lazy, now would it? You'd have to sign in and I know that, for myself, I tune out if it's "too much work" to do something online.
Thus the question that we'd like your help in answering: Should we continue with LBC as is, or switch to the more informal format where we can discuss in the comments? Leigh and I would post our thoughts to get the discussion started, but then the rest of you can chime in and we can actually (sort of)
discuss
the book with you all. What do you think? We'd love to hear what you think!