This week is a very special WoW for me, as I was fortunate enough to meet the talented, adorable, and very sweet
Victoria Schwab
at the Decatur Book Festival last month. At the time, I'd seen her here and there on Twitter, and had heard little bits about her upcoming book,
The Near Witch
, to know that both she and it warranted looking out for. Since then, we've gotten to know each other and I can honestly say that she is awesome + sauce x 1000.
Look how cute she is revealing her book cover!
Come ON, how could you NOT want to run out to Amazon.com and pre-order a copy when you know the author is so fab? Right? RIGHT? Well then, click this link and do it:
The Near Witch on Amazon.com
Wait, you want to know what it's ABOUT? Fine. Here's the pitch:
"The Near Witch is only an old story told to frighten children.
If the wind calls at night, you must not listen. The wind is lonely, and always looking for company.
There are no strangers in the town of Near.
These are the truths that Lexi has heard all her life. But when an actual stranger—a boy who seems to fade like smoke—appears outside her home on the moor at night, she knows that at least one of these sayings is no longer true.
The next night, the children of Near start disappearing from their beds, and the mysterious boy falls under suspicion. Still, he insists on helping Lexi search for them. Something tells her she can trust him.
As the hunt for the children intensifies, so does Lexi's need to know—about the witch that just might be more than a bedtime story, about the wind that seems to speak through the walls at night, and about the history of this nameless boy.
Part fairy tale, part love story, Victoria Schwab's debut novel is entirely original yet achingly familiar: a song you heard long ago, a whisper carried by the wind, and a dream you won't soon forget."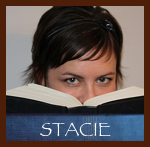 *
pre-orders The Near Witch
* That last line in the pitch is just beautiful! I cannot wait to read this book! It sounds a little creepy (which I like), and a great story to go with. I'm in!

So, to sum up:
Victoria = awesome
The Near Witch = sounds amazing
The Cover = GORGEOUS
There's no question as to why we're waiting anxiously for it!
Waiting on Wednesday is hosted by Breaking the Spine.