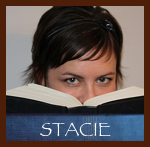 **SPOILER ALERT**
This post contains just one spoiler - and that is what the book
Speak
is about. If you already know, then this won't spoil anything else for you, if not, don't read this but DO READ THE BOOK! Thanks!
I was hesitant to rec this week's book because I was thinking that most of you have read
Speak
by Laurie Halse Anderson. But then again, maybe you haven't. Maybe you've not read it because it doesn't have any vampires or werewolves or shadowhunters? Yes, I was guilty of that. Or maybe you are putting it off because of the subject matter. Personally, I tend to avoid books about rape, or that I know contain a rape scene . But, last week I finally read
Speak
, keeping my promise from our
#SpeakLoudly give-away
, and I am so happy I did.
From
Goodreads
:
Since the beginning of the school year, high school freshman Melinda has found that it's been getting harder and harder for her to speak out loud: "My throat is always sore, my lips raw.... Every time I try to talk to my parents or a teacher, I sputter or freeze.... It's like I have some kind of spastic laryngitis." What could have caused Melinda to suddenly fall mute? Could it be due to the fact that no one at school is speaking to her because she called the cops and got everyone busted at the seniors' big end-of-summer party? Or maybe it's because her parents' only form of communication is Post-It notes written on their way out the door to their nine-to-whenever jobs. While Melinda is bothered by these things, deep down she knows the real reason why she's been struck mute...
I read this from two perspectives: One as a person with first-hand experience with rape. Not myself, but a very close friend in college. I won't say too much there, except that this book got a lot of details right on and brought back a lot of emotions that I'd thought I'd forgotten. And two, I read as a parent. And not just as a parent to a daughter, but also to a son. We all focus on teaching our girls how important it is to protect themselves, but it's also important to focus on teaching our boys exactly why sexual assault is so wrong.
At the end of the edition of
Speak
that I read, there is an interview with Laurie Halse Anderson. She said she was shocked that many young men asked her why it (sexual assault) was such a big deal to girls. (I'm paraphrasing because I've already lent my copy out.) That struck me and made me realize that we need to Speak up to our boys just as much as we do to our girls. I think every parent should read this book, and when the time is right, their children should too. (Take
that
Mr. Scroggins!!)
Aside from my personal feelings
about
Speak,
I should also say that it was extremely well written and I found myself laughing, crying, shaking (with anger), and cheering. It's a book filled with memorable characters (I loved Melinda's art teacher!) and moments that I will not soon forget. I fully intend to read this book again and again.
Have you read
Speak
? What are your thoughts? If not, are you planning on reading?