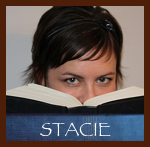 I have to announce that I have a new Literary Crush. My first two Literary Crushes are Kurt Vonnegut (yes, I know he's dead, but that is not a factor in the Literary Crush), and
Dave Eggers
(his curly brown hair
is
a factor in the Literary Crush). My newest Literary Crush is no less deserving (and he has fun hair) -
John Green
! I rec'ed
Paper Towns
here at Whim Fic (love that book) but I've recently finished Looking for Alaska, and I'm happy to say it cemented my LC on John Green. (And if the book didn't do it, the videos on his website would have - I have tears in my eyes from laughing.)
From
Goodreads
:
Before. Miles "Pudge" Halter is done with his safe life at home. His whole life has been one big non-event, and his obsession with famous last words has only made him crave "the Great Perhaps" even more (Francois Rabelais, poet). He heads off to the sometimes crazy and anything-but-boring world of Culver Creek Boarding School, and his life becomes the opposite of safe. Because down the hall is Alaska Young. The gorgeous, clever, funny, sexy, self-destructive, screwed up, and utterly fascinating Alaska Young. She is an event unto herself. She pulls Pudge into her world, launches him into the Great Perhaps, and steals his heart. Then . . . After. Nothing is ever the same.
Okay, so obviously I love this book. John Green's writing is just so great. Am I gushing? Yes, yes I am. But trust me, it's worth it. This book was funny (I think I may have guffawed at one point), but at the same time very real. There is nothing about this book that felt contrived. Even the main character's roommate being called The Colonel. I loved that, although I suspect it's due to the fact that we called one of my closest college friends by the same moniker all throughout my years in undergrad. (True story.)
But, I digress... back to the book. It was honest, deeply touching, and somewhat disturbing. But, like with Paper Towns, there is a beautiful sort of redemption that comes with that. The "Great Perhaps" that is at the center of this novel is a concept that I am now in love with and I don't think John Green could have illustrated it any better.
Have you read Looking for Alaska, or Paper Towns? Do you share my Literary Crush on John Green?
I will give a tiny little *disclaimer* on this book - it does contain drinking, smoking, and some other more mature scenarios. I wouldn't give this book to a tween, but I'd definitely feel comfortable recommending it to someone in their later high school years.