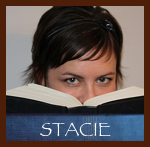 I don't do this to you all very often, but I'm going to do it today. *deep breath*
STOP what you are doing and go buy
Paranormalcy
by Kiersten White!
*exhales*
Seriously, I am in love with this book!
From
Goodreads
:
Weird as it is working for the International Paranormal Containment Agency, Evie's always thought of herself as normal. Sure, her best friend is a mermaid, her ex-boyfriend is a faerie, she's falling for a shape-shifter, and she's the only person who can see through paranormals' glamours, but still. Normal.

Only now paranormals are dying, and Evie's dreams are filled with haunting voices and mysterious prophecies. She soon realizes that there may be a link between her abilities and the sudden rash of deaths. Not only that, but she may very well be at the center of a dark faerie prophecy promising destruction to all paranormal creatures.
I totally judged this book by it's cover and was expecting a very dark story, which I like, but I love a dark story with a load of humor thrown in even more. That's exactly what
Paranormalcy
was. I was giggling at the first line. No wait, I was giggling at the title of the first chapter, "Oh Bite Me," and didn't stop from there. Evie and her bleeping bleeps are hilarious and she's such a great character. Sure, the girl loves sparkly pink more than I thought I could handle, but with Evie, it works. She is the kind of character who reminds you to take joy in the little things - even high school lockers.
And Lend. He might be my new favorite book-boyfriend. As always, I don't want to say too much, but Lend is about as perfect as they come. No sword, but he has plenty of other attributes that make him swoon-worthy. AND THE KISSY SCENE! This book has one that should be at the top of
our list
! I will probably go back and read it again as soon as I finish typing this.
And the story! It was fresh and FUNNY. This was one of those books that made me want to hole up and read for the entire day. I thought about it while I wasn't reading and couldn't wait to get home to my book and sink back into Evie's story. So, GO - READ!! And then tell me what you think, of course.
Follow Kiersten White on twitter
here
and read her blog
here
.