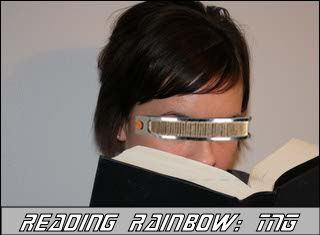 Candor by
Pam Bachorz

Candor was recommended to me by my twitter book-pusher
@katarinasmama
. She sold it to me as a dystopian story, which instantly made me want to read. I love dystopian fiction - Margaret Atwood is one of my favorte writers, after all. I think I'm drawn to them because they force the reader to consider the fictional world presented - that it
could
exist - and then contemplate the possiblities -
what if
? In that way, Candor did not disappoint.
Just to give you a quick idea of the storyline, a man creates his version of a Utopian community, called Candor, by forcing Messages upon it's inhabitants through auditory means - the Messages are hidden in music that is played throughout the town. No one knows the extent of this man's control, save his son, Oscar Banks. Oscar works within the system by helping young people escape Candor by using Messages of his own. (Read a full synopsis and review at
Reverie Book Reviews
.)
The thing I liked about Candor was that the whole dystopian world was one that I could easily relate to and imagine existing. It isn't set thousands of years into the future, bur right now, in present day. Candor could be the next gated community over from yours, and how would you know? It brings up questions about free will and basic personal freedoms, which are definitely relevant in YA, but can also be relevant to a reader who isn't a young adult. I found myself wondering how far I would go for perfection, and what exactly is it that defines perfection? And, how far would I go to fight against the system?
Another thing I really liked was the ending. I'm not going to go into details here (for obvious reasons!) but I like that this book stands alone - it is not a part of a series. The end is, in fact, the end, but it allows the reader to form their own ideas about what happens
after
that end. Truth be told, I usually hate this sort of ending, but it was so well done in Candor, that I loved it.
Have you read Candor? What did you think? Did you want more? Were you satisfied at the end? And, as always, remember to ***SPOILER ALERT*** in your comments if you include spoilers.