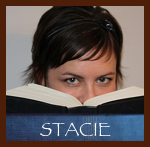 I'm guessing now isn't the best time to introduce this week's book to you, being the busy holiday season and all, but I think you'll need an idea for all those bookstore gift cards you're about to receive, right? Yes, you will. Since there is nothing better than an epic tale of epicness to sink into during those dreary January days, this book should be on your gift-card shopping list:
The Girl of Fire and Thorns
by
Rae Carson
.
From
Goodreads
:
Once a century, one person is chosen for greatness.
Elisa is the chosen one.
But she is also the younger of two princesses, the one who has never done anything remarkable. She can't see how she ever will.
Now, on her sixteenth birthday, she has become the secret wife of a handsome and worldly king—a king whose country is in turmoil. A king who needs the chosen one, not a failure of a princess.
And he's not the only one who seeks her. Savage enemies seething with dark magic are hunting her. A daring, determined revolutionary thinks she could be his people's savior. And he looks at her in a way that no man has ever looked at her before. Soon it is not just her life, but her very heart that is at stake.
Elisa could be everything to those who need her most. If the prophecy is fulfilled. If she finds the power deep within herself. If she doesn't die young.
Most of the chosen do.
I should point out that I love fantasy novels. If you build me a believable world with strong central characters and some magic thrown in, I'm game. And, if the strong central character is a girl? Even better. Elisa starts out a little bit... erm... annoying. I'm not going to lie. But, she grows and learns and changes, and you all know I love a story about growth and change, right? I think
Veronica Roth
's goodreads review of this book is spot-on in regards to Elisa: "
Sometimes I got annoyed with her, but I think that's the mark of a good character--you don't always like them, just like you don't always like your friends or your family or your peers, but you do always root for them." I concur. Elisa is such a great character. You may not be sure of her at first, but you will be wanting to cheer for her in the end, trust me. I honestly think this book is made better by Elisa's insecurities and faults in the beginning of the novel.
And, oh! the world-building! It's fantastic. I loved, LOVED sinking into this world of Elisa's and learning about it just as she did. It was fascinating and truly well done. It's also a story with much heartache and loss, and I always respect that in a book, even if it is hard (and sad!) to read. But, Rae Carson makes it all worth it. All of the trials and loss that Elisa endures is what makes her into the person she is at the end.
And the ending! This was perfect for a book that is the first in a series. No ridiculously high cliffs, but instead a true resolution of the story that still made me long for the next book to come out. I cannot tell you all how happy it makes me to read a book that does this well. And even though I'll have to wait until next October (!) for the second book, I'll be first in line to pick it up!
So, if you're like me and love to sink into fantasy during the colder months, definitely pick up The Girl of Fire and Thorns. Get yourself a chair by a fire and a hot drink and enjoy!
P.S. We will probably be taking a break (big surprise- hah!) next week, but we'll be back for our BLOGAVERSARY along with a giveaway of Clockwork Prince by Cassandra Clare! Yay! In the meantime, Happy Hanukkah, Merry Christmas, Happy Kwanzaa, and a very Happy New Year to all! Love, Leigh and Stacie