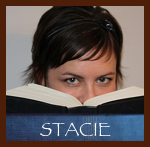 Okay, so this post is actually a cross between a Waiting-on-Wednesday and a Reading Rainbow. Why? Because I was lucky enough to win an early copy of
Wolfsbane
by
Andrea Cremer
so I have already read it! (Thank you Andrea and Editor Jill!) And, I have to admit, I was super excited to be receiving a copy with the original cover.

That's me being super excited.
Okay, maybe this was taken just now and not when I received the book, but multiply this by 1000 and that's how excited I was.
Anyway, here is the actual cover of the book...
From
Goodreads
:
This thrilling sequel to the much-talked-about Nightshade begins just where it ended-Calla Tor wakes up in the lair of the Searchers, her sworn enemy, and she's certain her days are numbered. But then the Searchers make her an offer-one that gives her the chance to destroy her former masters and save the pack-and the man-she left behind. Is Ren worth the price of her freedom? And will Shay stand by her side no matter what? Now in control of her own destiny, Calla must decide which battles are worth fighting and how many trials true love can endure and still survive.
One thing I really love about this sequel is how much detail we are given. The book is not just about Calla and her own personal struggles (I'll get to that...), but also delves more deeply into the history of the Guardians and how they came to be. It's certainly not easy-reading and that is why I really got into it. I want to hand this book to anyone who claims that YA is easy, or "fluff," because Andrea Cremer really makes you think.
And Calla. Oh, Calla. She faces many important decisions in this book, as well as much heartache, but she stays true to herself, which I liked. I have to be honest and say that I was somewhat annoyed by Shay and am now totally leaning towards #TeamRen, but that was something I
liked
about the book. Sometimes people, even seemingly-perfect-boyfriend-types, turn annoying and insecure. It rang true, even if I was frustrated with his character.
If you were like me and loved
Nightshade
, but wanted more of the history, you are going to love
Wolfsbane
. It's a worthy sequel in a great series so be sure to get your copy on July 26th! And I'll be honest, it does end with a slight cliff-hanger, but nowhere near as high as the cliff from
Nightshade
. That much I can promise you.