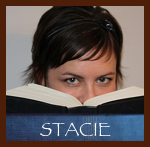 Please don't hate me, but I'm about to recommend a book that isn't out yet. I know a lot of the book blogs do this, but when I'm looking for a book, I want it NOW, not in 3 months. The good news is that this book is available on April 26th, so I'm not making you wait too long. I wanted to rec it now because it may come up in one of our conversations on WhimFic soon. Oh, the book? You want me to actually get to the point?
Bumped
by
Megan McCafferty
.
From
Goodreads
:
When a virus makes everyone over the age of eighteen infertile, would-be parents are forced to pay teen girls to conceive and give birth to their children, making teens the most prized members of society.

Sixteen-year-old identical twins Melody and Harmony were separated at birth and had never met until the day Harmony shows up on Melody's doorstep. Until now, the twins have followed completely opposite paths. Melody has scored an enviable conception contract with a couple called the Jaydens. While they are searching for the perfect partner for Melody to bump with, she is fighting her attraction to her best friend Zen, who is way too short for the job.

Harmony has spent her whole life in religious Goodside, preparing to be a wife and mother. She believes her calling is to bring Melody back to Goodside and convince her that "pregging" for profit is a sin. But Harmony has secrets of her own that she is running from.

When Melody is finally matched with the world-famous, genetically flawless Jondoe, both girls' lives are changed forever. A case of mistaken identity takes them on a journey neither could have ever imagined, one that makes Melody and Harmony realize they have so much more than just DNA in common.
Are you all on overkill with the dystopian novels yet? Okay, good. Here's the thing - the premise of this book is fascinating. The idea that fertility has become a commodity (more so than it is already) was something I hadn't thought of in these terms. And that the value is limited only to teenage girls (and boys) is also uniquely interesting. Throughout reading this book, I was surprised with how the market controlled young women, and their bodies. Again, fascinating. And scary. (But this book keeps it light, so don't worry about being depressed after reading.)
I will say that I found the slang (for lack of a better word) a bit over-the-top in this book. It makes more sense as you go along, but I kind of felt beaten over the head with the words
humped
and
bumped
(and more). So, be prepared for that so it doesn't turn you off in the beginning. My other issue was with the ending. I still feel like there were too many story-lines left unfinished, but perhaps that is just my taste. You all know I like things tied up pretty.
All that being said, I did like this book. Even more, I liked how it permeated my thoughts for weeks after reading. It's still coming up in conversations regularly (poor, poor Leigh). Definitely worth the read! If you do read
Bumped,
I'd love to hear your thoughts! Especially on the ending! Was it just me?
**A big, huge THANK YOU to
NetGalley
and
Harper Collins
for providing us with an ARC of
Bumped**