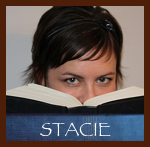 I started
Angelfire
by
Courtney Allison Moulton
knowing nothing about the book, other than the fact that it featured a
Chick Who Can Kick Our Ass
. You all know I love great heroines, so I was excited to read.
From
Goodreads
:
This debut, the first novel in a trilogy, is achingly romantic, terrifying, and filled with blistering action.

When seventeen-year-old Ellie starts seeing reapers - monstrous creatures who devour humans and send their souls to Hell - she finds herself on the front lines of a supernatural war between archangels and the Fallen and faced with the possible destruction of her soul.

A mysterious boy named Will reveals she is the reincarnation of an ancient warrior, the only one capable of wielding swords of angelfire to fight the reapers, and he is an immortal sworn to protect her in battle. Now that Ellie's powers have been awakened, a powerful reaper called Bastian has come forward to challenge her. He has employed a fierce assassin to eliminate her - an assassin who has already killed her once.

While balancing her dwindling social life and reaper-hunting duties, she and Will discover Bastian is searching for a dormant creature believed to be a true soul reaper. Bastian plans to use this weapon to ignite the End of Days and to destroy Ellie's soul, ending her rebirth cycle forever. Now, she must face an army of Bastian's most frightening reapers, prevent the soul reaper from consuming her soul, and uncover the secrets of her past lives - including truths that may be too frightening to remember.
The thing I really enjoyed about this book was the fact that Ellie didn't start out as an ass-kicking heroine. In fact, she started out as a spoiled girl who seemed only concerned with her car, clothes, and partying. But, that was what made her transformation all the more interesting and exciting. I have to admit, I questioned the fact that Ellie continued to party even after she learned that she was an ancient being meant to fight evil. But, I suppose most teenage girls would want to hold onto her friends, and especially what is familiar, when faced with the prospect that she is responsible for ridding the world of evil.
Also interesting and exciting in
Angelfire
? Will. He's the perfect balance to Ellie and the chemistry between the two characters is fun to watch. Their sparring matches, as Will teaches Ellie how to use and control her powers, were great and reminded me a bit of Katsa and Po from Graceling. (Although in a much, much different story.)
So, if you're looking for an exciting start to a series, pick up
Angelfire.
And, as always, come back and let me know what you think!
**A big, huge THANK YOU to
NetGalley
and
Harper Collins
for providing us with an ARC of
Angelfire **