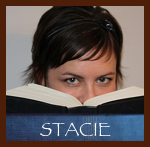 I love when I come upon a great series
after
all of the books have been released. There is nothing like losing yourself in a story, and I loved losing myself in the
Chronicles of Vladimir Tod
by
Heather Brewer
.
Eighth Grade Bites
from
Goodreads
:
Junior high really stinks for thirteen-year-old Vladimir Tod. Bullies harass him, the principal is dogging him, and the girl he likes prefers his best friend. Oh, and Vlad has a secret: His mother was human, but his father was a vampire. With no idea of the extent of his powers and no one to teach him, Vlad struggles daily with his blood cravings and his enlarged fangs. When a strange substitute teacher begins to question him a little too closely, Vlad worries that his cover is about to be blown. But then he realizes he has a much bigger problem: He's being hunted by a vampire killer who is closing in . . . fast!
I can't tell you how many times I picked up
Eighth Grade Bites
before finally taking the plunge and reading. I think I was a little bit afraid of a story about a boy in junior high (what? they're scary!). But, after reading
Heather Brewer's tweets
, and finding her to be smart and funny, I thought the books must be worth a read.
And, I was right. I adore Vlad. Not in the book-boyfriend way, mind you, but in a 'little brother' way. I really loved the way his character progressed over the series, and he has definitely become one of my favorites! I was impressed time and time again with his ability to step outside of the proverbial junior high (and then high school) boy box and be a real person. You all know I love seeing a character grow, and Vlad does that and more. He faces loss and heartbreak, and it was all done in a very real and believable way.
I also loved that I was continually surprised while reading these books. Although the basis of the series might sound formulaic (following Vlad through his school years), the story-lines often took major turns from I expected - and that makes for great reading. Heather Brewer never took the easy way out for her characters, and that gave the books an extra edge that was just perfect.
By the end of the series, I was proud of Vlad, sad to put him down, and already miss him since I've finished. If you haven't given in to these books, I highly recommend that you do so! Pick a time where you can sink into all of them at once because it's worth it. I hope you love Vlad as much as I do. In fact, I'm thinking I need one of
these
...
Have you read The Chronicles of Vladimir Tod? What did you think?