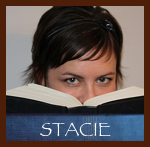 And, we have a winner!! But, first, we want to thank you all for playing along, and for making our first year so much fun! We have the best readers! (Not that I'm biased or anything.) You all make this worth it for us, and we've loved sharing books with you over the past year. We're looking forward to another lazy, er, whimsical year!
Okay, now to the good stuff! The winner of our first blogaversary giveaway was chosen randomly....
And the 15th commenter was
BRODIE
! Congratulations Brodie! Send us an email with your contact information and the book you'd like and we'll get it right out to you!
Thanks everyone!!