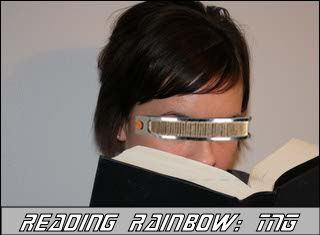 I have to be honest, I was skeptical about the prequel to
Pride and Prejudice and Zombies
. It was written by someone other than
Seth Grahame-Smith
(the author of
PP&Z
) and I am skeptical of prequels in general - I mean, I already know what happens, so what's the point? But, I'm happy to say that I was wrong to be so cynical.
Dawn of the Dreadfuls
was a fun read - and in some ways, even more interesting than
PP&Z
.
Now if you're a
PP&Z
fan, don't get me wrong - that was a great book. You really can't beat Seth Grahame-Smith when you're talking Jane Austen and zombies. But, what I liked about
Dawn of the Dreadfuls
was that it was an entirely new story, but with completely familiar characters. Hmmm... kind of like fan-ficiton, yes?
Dawn of the Dreadfuls
tells the story of how Jane, Elizabeth, Mary, Kitty, and Lydia all come to be warriors against the dreaded zombies who have invaded England. Mr. Bennet is wonderful in this book, leading each of his daughters to find her inner warrior. Mrs. Bennet is pure comic relief - and done so well that I actually found myself laughing out loud.
I think if you liked
PP&Z
, you will like this book. If you can get past the whole, "Why didn't Seth Grahame-Smith write this book?" question (as I had to), you'll enjoy it. It has quick wit and a lightheartedness, even amongst the zombie slaying, that I found refreshing.
Dawn of the Dreadfuls
will be available on March 23rd. In the meantime, Quirk Classics is giving away some prize packs that include advance copies, audio books of
PP&Z
and
Sense and Sensibility and Sea Monsters
, and lots more. If you'd like to enter, go
here
and post on the Quirk Classics message board. Good luck!