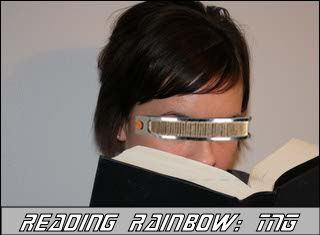 Truth be told, I'm absorbed in the Percy Jackson books right now, so I'm going to go back to a book I read a few months ago and really loved.
Hush, Hush
, by Becca Fitzpatrick was one of those books I could not put down. It's a sort of mystery, which was driving me crazy, but in a good way. I didn't figure everything out right away, and that kept me hooked on the story. A lot of YA novels make it too easy, but not
Hush, Hush
.
from the
author's website
:
Falling in love was never so easy... or so deadly.
For Nora Grey, romance was not part of the plan. She's never been particularly attracted to the boys at her school, no matter how much her best friend, Vee, pushes them at her. Not until Patch came along. With his easy smile and eyes that seem to see inside her, Nora is drawn to him against her better judgment.
But after a series of terrifying encounters, Nora's not sure who to trust. Patch seems to be everywhere she is, and to know more about her than her closest friends. She can't decide whether she should fall into his arms, or run and hide. And when she tries to seek some answers, she find herself near a truth that is way more unsettling than anything Patch makes her feel.
For Nora is right in the middle of an ancient battle between the immortal and those that have fallen - and when it comes to choosing sides, the wrong choice will cost her life.
So, it's your basic girl-meets-mysterious-but-maybe-dangerous-boy-and-is-wildly-attracted-to-him story. And while you might find that theme throughout YA lit, you won't find it told quite like it is in
Hush, Hush
. I don't want to give away too much, and this book is full of twists and turns, so it's hard to discuss without spoilers. But, I will say that I was instantly drawn to Patch. He is an exciting character and I was drawn in much the same way Nora is - curious and very much interested, but still hesitant to give in completely.
Becca Fitzpatrick is currently working on the sequel to
Hush, Hush
, which is due out in Fall of 2010. Definitely add this book to your TBR list before then - I think you'll be drawn in and hooked too.
Read an excellent review at Page Turner's Blog by Sophie
here