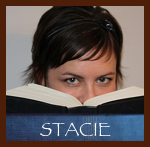 Today's rec is fun because not only am I recommending
Sweetly
by
Jackson Pearce
, but we are also giving away a copy! And not only are we giving away a copy, but a SIGNED copy of
Sweetly
! Leigh and I were lucky enough to meet Jackson Pearce at the Decatur Book Festival earlier this month. She was nice enough to sign a copy of the book for all of you!
She was also nice enough to sit through a photo-shoot FAIL with us in an attempt to get a picture of the three of us together. We ended up with just Leigh and Jackson posing, while I was trying to explain the workings of the camera to the nice woman who agreed to take our picture. Still - great picture, yes?
And now, on to
Sweetly
!
Twelve years ago, Gretchen, her twin sister, and her brother went looking for a witch in the forest. They found something. Maybe it was a witch, maybe a monster, they aren't sure—they were running too fast to tell. Either way, Gretchen's twin sister was never seen again.

Years later, after being thrown out of their house, Gretchen and Ansel find themselves in Live Oak, South Carolina, a place on the verge of becoming a ghost town. They move in with Sophia Kelly, a young and beautiful chocolatier owner who opens not only her home, but her heart to Gretchen and Ansel.

Yet the witch isn't gone—it's here, lurking in the forests of Live Oak, preying on Live Oak girls every year after Sophia Kelly's infamous chocolate festival. But Gretchen is determined to stop running from witches in the forest, and start fighting back. Alongside Samuel Reynolds, a boy as quick with a gun as he is a sarcastic remark, Gretchen digs deeper into the mystery of not only what the witch is, but how it chooses its victims. Yet the further she investigates, the more she finds herself wondering who the real monster is, and if love can be as deadly as it is beautiful.
I love fairy-tale re-tellings, and this one was done so well! It's extremely spooky (just look at that cover), and it certainly made me want to stay away from the woods at night! I really loved the mystery of the story, and could not wait to figure out what, exactly, was happening in the candy shop. This book is also set in a small town, and I have a certain weakness for small-town life. I think it complemented the story well and I loved the setting overall.
And speaking of settings, did I mention that this book is focused around a candy shop? Oh right, I did. But, THE CANDY. Be sure to have some chocolate nearby while you're reading because you'll need it. The candy is almost it's own character, or an extension of Sophia, and I love the way it plays into the story.
Rather than give away any other details from the book, let's get on with the actual giveaway! All you have to do is leave a comment on this post telling us your favorite candy! And, if you want a bonus entry, leave a recipe to make your favorite candy (or variation of), or a link to a recipe will work as well. My favorite (currently) is the dark chocolate peanut butter cup from Trader Joe's. I make special trips just to buy them.
We'll draw a winner Monday, October 2nd! Good luck!
**This giveaway is for US residents only. SO SORRY to our international readers! We promise to have a big old worldly giveaway soon!**