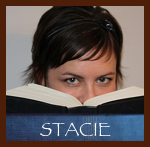 I've been a SLOW reader lately. I'm going to blame holiday madness (and the fact that I spent three days designing 450 different Christmas cards until finding finding the perfect one). So, since I have no book to rec this week, I thought it might be fun to do a few gift recommendations (and I'd love to hear yours as well!). Basically, you're getting my holiday shopping list (I really hope my family doesn't read this post)...
For Younger Readers:
I have two nephews who love Harry Potter and Percy Jackson. For the older nephew (he is 10), I'm getting
The Red Pyramid
by Rick Riordan. I rec'ed that book here. For younger boys and girls, I would also recommend
The Lost Hero
by Rick Riordan (I'm reading it now and loving it) or
Gregor the Overlander
(#1 in the Underland Chronicles) by
Suzanne Collins
(because you just
know
those are good - based on
The Hunger Games
).
For the younger nephew, who is seven, I'm going with KatarinasMama's recommendation of the
Spiderwick Chronicles
by
Holly Black
and
Tony DiTerlizzi
. KatarinasMama knows her books, and I think these look great. Plus - Holly Black! She's been on my TBR for a while now and I'm thinking it's time to move her books up the list.
For ANYONE:
The Hunger Games
trilogy. I have honestly not met anyone who did not love, or at least really like these books. I'm actually getting them for my dad, who is not exactly a YA, dystopian book kind of guy. But, I really believe that these books are so amazing, they would be a great gift for anyone.
For the Non-fiction Lover:
I absolutely loved
Welcome to Utopia: Notes from a Small Town
by Karen Valby. I have an infatuation with small-town life and this book is all about people who live in a small town in Texas. It's very personal and definitely very moving. I usually don't go for non-fiction (obviously, since I read mainly fantasy!), but I loved this book.
For the Trendy Reader:
(I just made that term up. Fancy, huh?) If you know someone who likes to be on top of the latest trend in reading, definitely get them
Freedom
by Jonathan Franzen. I can't say I
enjoyed
this book, but I did enjoy reading it. I know, that makes no sense, but that is how I feel about it. It is a mammoth book, and the characters were sometimes overboard annoying, but it was interesting and definitely made a statement about living in our time.
For your Romantic Friend:
Another recommendation from KatarinasMama that has been moved up on both Leigh and my TBR lists is
Anna and the French Kiss
by Stephanie Perkins. KatarinasMama had such great things to say about this book - I cannot wait to read it. Leigh saw it tweeted today that
Anna and the French Kiss
gives us a modern day Mr. Darcy to swoon over. She's sold, as well am I. You'll probably see me post about it soon! (And, please notice I did not say 'Romance-lover', because that brings up images of rippling abs and pecs and a damsel in distress. Not
that
kind of romance, mind you!)
For your Funny Friend:
If you have a snarky, funny friend or relative who likes to guffaw at randomness, and has a very open mind, I say get them the
Regretsy book
! Leigh and I love
Regretsy
and regularly snicker together at the awful things Helen Killer (aka April Winchell) finds on etsy. And, I'm proud to say that I've converted my husband into a Regretsian. He spent the entire weekend poring over the website and calling me in to see things. Yes babe, I've seen the skants.
And speaking of etsy - Leigh has a great suggestion for your
Writer Friends
-
fingerless gloves
!
I want these for myself because you cannot turn pages on an ereader with gloves on, so it would also be a great idea for your
Reader Friends
.
And finally, Leigh had a great suggestion for readers like us. There is an
etsy shop that has jewelry and other crafts inspired by the books we love
! The seller categories for Becca Fitzpatrick, Cassandra Clare, and Maggie Stiefvater, among others. I think I could spend all afternoon browsing her wares. I really love
this necklace
inspired by Clockwork Angel.
Other fun gifts for your
Reader or Writer Friends
- Anthropologie has
cloth-bound Penguin classics
that are beautiful. I want to order all of these!! Look how pretty
Sense and Sensibility
is!
Leigh also found this
great poster for readers
, which I adore. And there is also a "Keep Calm and Write On," poster for your
Writer Friends
.
And, finally, Leigh has suggested
SMENCILS
for your
Writer Friends
, because, what is better than writing with scented pens and pencils?
Okay, I think we just got seriously carried away. Who knew there were so many great gift ideas for readers and writers? Do you have some to add? You know we want to hear them!