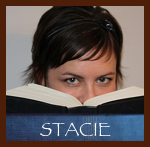 Sorry I'm a bit late this week, but I wanted to actually finish this book before I rec'ed it. (Crazy, I know.) I was thinking it would be fun to rec a scary book this week, seeing as how Halloween is this weekend. But, I'm a bit of a wimp, really. The only time I've willingly watched horror movies was while doing research for a paper in grad school. With the lights on. During the day. So, I was having trouble committing to a truly scary book. I finally decided on
Neil Gaiman
's
The Graveyard Book
, because I thought it
might
be spooky (I mean, look at the cover!) and I love Neil Gaiman.
From
NeilGaiman.com
:
Bod is an unusual boy who inhabits an unusual place-he's the only living resident of a graveyard. Raised from infancy by the ghosts, werewolves, and other cemetery denizens, Bod has learned the antiquated customs of his guardians' time as well as their timely ghostly teachings-like the ability to Fade. Can a boy raised by ghosts face the wonders and terrors of the worlds of both the living and the dead? And then there are things like ghouls that aren't really one thing or the other. This chilling tale is Neil Gaiman's first full-length novel for middle-grade readers since the internationally bestselling and universally acclaimed Coraline. Like Coraline, this book is sure to enchant and surprise young readers as well as Neil Gaiman's legion of adult fans.
I'd love to say that this book was super creepy and scared the bejeebus out of me, but it didn't. I absolutely LOVED this book, scary or not, and I've been telling everyone who will listen about it since I finished. First, Neil Gaiman is a master. That's a given, but this book is just about perfect. I loved every moment of it and was sad to reach the final page. The characters are brilliantly written, especially the dead ones. And Bod Owens is one of the best protagonists around. When I finished this book, I had chills (but not the scary kind), and tears in my eyes.
The Graveyard Book
is a perfect pick for this week, especially if you're a bit of a wimp like me, but still enjoy a good book about dead people.
That being said, I'd love to hear your scary book picks! Do you read scary books? Or are you easily frightened, like me?