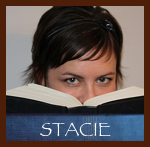 So you may have noticed the absence of Reading Rain-bow this week. Truth be told, I'm suffering from a
Mockingjay
hangover. (If you want to join in the discussion on
Mockingjay
- go
here
.) And you might also be aware that
Clockwork Angel
by Cassandra Clare was released this week. So, I'm a little distracted. We'll just carry on with our regular scheduled programming - Waiting on Wednesday!
Waiting on Wednesday is hosted by Breaking the Spine.
Lately I've been hearing a lot about
Nightshade
by
Andrea Cremer
. Every book blogger that has read it has been buzzing about it and the reviews on goodreads are amazing. And, the cover is beautiful and deadly all in one. I love it.
From
Goodreads
:
While other teenage girls daydream about boys, Calla Tor imagines ripping out her enemies' throats. And she wouldn't have it any other way. Calla was born a warrior and on her eighteenth-birthday she'll become the alpha female of the next generation of Guardian wolves. But Calla's predestined path veers off course the moment she saves the life of a wayward hiker, a boy her own age. This human boy's secret will turn the young pack's world upside down and forever alter the outcome of the centuries-old Witches' War that surrounds them all.
Seriously? Witches War? I'm in. Also the reviews on goodreads:
This is a very sexy YA novel. Lots of insanely hot werewolves. Grrr... Suspense up to the very end.
(from author
Lisa Desrochers
) Okay, again, "insanely hot werewolves," and I'm in.
From the reviews, I also learned that we have a
Chick Who Can Kick Our Asses
as a heroine (yes!) and a book that far surpasses the blurb. (I was a little judge-y of the blurb too, to be honest). So, I'm definitely going to be lined up to get
Nightshade
when it comes out on October 19, 2010 in the states. I just wonder if I can wait until then.
What about you? Have you heard about Nightshade? Planning on reading it? Lucky enough to have already read a copy?